Name:
Easy Paint Tool SAI 1.2.0.1 | English Version - Re-Pack
Homepage:

http://www.systemax.jp/en/sai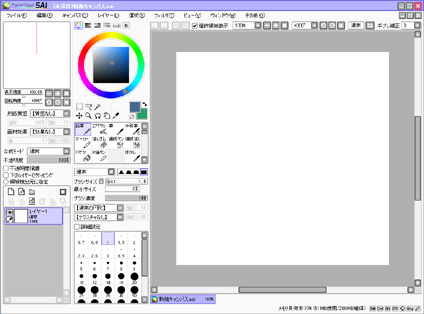 Info:PaintTool SAI
is high quality and lightweight painting software, fully digitizer support, amazing anti-aliased paintings, provide easy and stable operation, this software make digital art more enjoyable and comfortable.
Features:
>Fully digitizer support with pressure.
>Amazing anti-aliased drawings.
>Highly accurate composition with 16bit ARGB channels.
>Simple but powerful user interface, easy to learn.
>Fully support Intel MMX Technology.
>Data protection function to avoid abnormal termination such as bugs.
System Requirements:
>OS > Win 98/2000/XP/Vista/7/(8 32-bit (seems to works - not fully tested)) - Will work on 64bit ShiChuang
>Pentium 450MHz or later (require MMX support)
>System Memory 1024MB
>512MB free space
- Resolution 1024x768, "32bit True Color" screen
- Wintab compatible digitizer with pressure support
How To:
1. Install, when it asks for a password type (or paste):
countryboy
2. Enjoy!
Credits:
countryboy
Once Installed:
1. Right-Click on shortcut icon, and select "Properties"
2. Select "Compatibility"
3. Find and check the box that says "Run this program as administrator" and click on "OK"
4. It will ask you to confirm, select "OK"
5. Enjoy!
New Version 1.2.0.1 - Repack
What's New:

http://www.systemax.jp/en/sai/history.txt

If you have issues with the password, try typing it instead of pasting.
Download Links:
- Password for .rar is:
swisskid2010

http://www.chayfile.com/8vr4ii5ik2y4.html

or

Dead link removed (ClicknuploadCom ID: zzcfuej9ccu0) ~figjam

or

https://www.sendspace.com/file/ol4cn3

(Old Version 1.10 - Portable/No install)Download Links:
- No Password

http://www41.zippyshare.com/v/24928664/file.html

or

http://www.sendspace.com/file/xdnkxr

or

http://www.solidfiles.com/d/70bfcff187/

Link checked on Mon Jan 12, 2015 9:36 pm [figjam]